Private Courses
Acadia Center's intensive private courses – with new courses beginning every week from May through October - feature everything you need to raise your English to a higher level.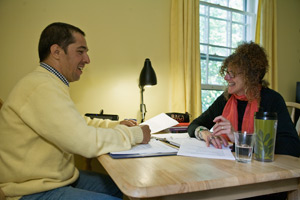 The individual attention we provide allows you to learn the English skills most essential to you in a total immersion setting.
Our private courses are open to adult learners with any level of English: beginning, intermediate, or advanced.
Course highlights:
Personalized learning program including pre-course evaluation, orientation interview, detailed teachers' recommendations, and weekly individual assessment meetings
Private, customized lessons that give you intensive practice in the language topics most essential to you, for example: business communication, listening comprehension, TOEFL or TOEIC preparation, writing, or general English vocabulary, grammar, and pronunciation
Total English immersion from morning to night
Comfortable private room accommodations 
Family-style meals with teachers and native-English-speaking hosts providing constant conversation practice
Excursions with teachers two afternoons per week – activities include sailing, touring local museums and shops, kayaking, hiking, and visiting local businesses, workshops, and studios
Access to our study center library and computers, TV/film room, game room (ping pong and table soccer), and bicycles
Free admission to fitness club including indoor swimming pool and running track, gym, and exercise/weight room
Companionship with fellow adult students from all over the world who are mature, motivated professionals and who understand the importance of speaking only English all day, in class and out of class, at meals and on excursions
Involvement in a friendly, safe, small-town community with lots of opportunities to meet local people and make new friends
Easy access on foot to ocean, harbor, and mountains and to shops, restaurants, cafes and everything else that our classic New England town has to offer
Daily Schedule (Monday/Wednesday/Thursday)
8:30am – 9:00am:  breakfast
9:00am – 9:30am:  guided study in the study center
9:30am – 11:30am:  private English lesson (1 student/ 1 teacher)
11:45am– 12:45pm: lunch with teachers
1:00pm – 3:00pm:  private English lesson (1 student/ 1 teacher)
3:00pm – 5:00pm:  guided study in the study center
6:30pm: dinner with dinner hosts
Daily Schedule (Tuesday/Friday)
8:30am – 9:00am:  breakfast
9:00am – 9:30am:  guided study in the study center
9:30am – 11:30am:  private English lesson (1 student/ 1 teacher)
11:45am– 12:45pm: lunch with teachers
1:00pm – 4:00pm:  excursion/conversation practice with teacher
6:30pm: dinner with dinner hosts
Private course package price:
1-week course:  $2200
2-week course:  $4350
3-week course:  $6450
4-week course:  $8500
The package price for any course of 5 weeks or longer is based on a fee of $2125 per week.
Friends/Couple Discount: Take 5% off the package price if you attend a course with your spouse or a friend or colleague.
Alumni Discount: Take 5% discount off the package price if you previously attended an immersion course at Acadia Center.
Discounts listed above can be combined.
Private course package includes:
16 hours per week of private, customized English lessons
weekly individual 20-minute meeting with teacher to assess your progress and objectives
10 hours per week of guided study in the study center
all books and materials
2 afternoon teacher-led excursions per week (Tuesday & Friday) including all admission/activity fees and transportation
standard plan accommodation: a comfortable private room with shared bathroom in a family home near Acadia Center, and breakfast (self-serve) every day
lunch with teachers (Monday through Friday); dinners with teachers and/or hosts (Monday through Friday)
free wifi Internet access
course certificate
free admission to indoor swimming pool, gym, indoor track, and fitness center
transportation between Rockland (Maine) or Portland (Maine) airport and Acadia Center on the first and last days of your course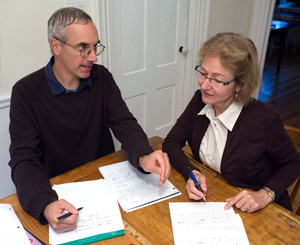 Apartment/hotel option: The package prices listed above include standard plan accommodation (see above for details). However, if you prefer to stay in a private apartment, hotel, or bed-and-breakfast, we will discount your course fee by $150 per week, and you pay for the hotel or apartment directly to the hotel or apartment owner. Costs for accommodations in a hotel or apartment vary widely depending on availability, time of year, and the type of apartment or hotel, and range from $600 to $1200 per week for a 1-bedroom apartment (kitchen, living room, bedroom with private bath), and $150+ per night for a room with private bath in a hotel or bed-and-breakfast. If you would like our help in finding an apartment or hotel, please ask; hotels and apartments book up quickly, especially in the high season of June-September, so please make your reservations as early as you can.
Weekend meals: With the standard accommodation plan, all meals are included except lunches and dinners on Saturdays and Sundays. On the weekends you can sample the many restaurants in Camden within a 10-minute walk of Acadia Center.
Additional private lessons can be arranged for a fee of $50 per hour.
New courses begin every Monday from May through October. Our first classes in 2013 begin on April 29.
Schedule your arrival for Sunday and your departure for Saturday.
During the winter (November-April), sign up for online English lessons.
Register now for a private English course, or for our combination (private/mini-group) English course.  Questions? Call us at 617-939-9209 or contact us by e-mail.
English class photos by Nikolay Tarkhanov.