Saturday, October 30th, 2010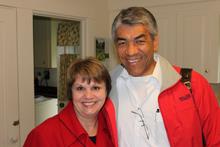 Camden, Maine – the home of Acadia Center for English Immersion – is a beautiful and relaxing vacation destination. With its tree-lined streets, classic New England wooden houses, picturesque harbor, and friendly people, our town is an ideal retreat for couples or friends who would like to share their vacation time while improving their English skills in a full immersion environment.
Take advantage of big savings – a friends/couple discount of 5% off the complete course package price – when you register for an English immersion course with your spouse or friend, and enjoy a learning vacation together!