Student FAQ's (Frequently Asked Questions)
When do courses begin?
Our intensive English immersion courses are offered for 1, 2, 3, or 4 weeks beginning every Monday from July 9 to August 5, 2023.

Online English lessons are available all year.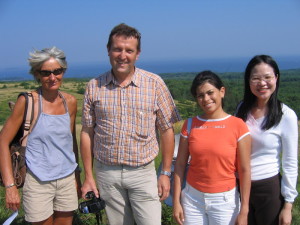 Which immersion course is best for me: combination or private?
Most of our students choose the combination course because they want a mix of mini-group classes and private lessons. The morning mini-group classes (maximum of 4 students with 1 teacher) provide a lot of fun interaction and lively conversation practice and help keep you motivated. The private lessons in the afternoon allow you to focus on the skills most essential to you.
The private course is most suitable for those who prefer a completely customized course focused on a specific topic such as business communication, TOEFL preparation, or advanced writing skills.
How do you maintain total immersion in English when you have students who share the same native language?
The keys to maintaining total immersion in English are the small size of the school, the dedication of the teachers, and the maturity and commitment of the students.
In the group classes the average ratio of teachers to students is 1:2, and the maximum number of students in one class is 4. In class and out of class, at meals and on excursions, our students receive an extraordinary amount of individual attention and the opportunity to have constant practice in English conversation with teachers and hosts, all native English speakers who are eager to get to know you and answer your questions about English.
Our students are mature professionals who understand the importance of speaking only English all day from morning to night, not only during school activities but also with each other at all times.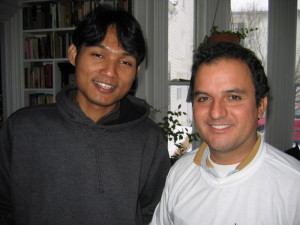 The immersion courses include guided independent study time in the study center – what is that?
An essential element in improving your English is the time you devote to reviewing what you've learned in class and preparing for the next class. Every day your teachers give you assignments based specifically on your needs and interests. A typical assignment might be: review and practice the present perfect verb tense, write about a childhood memory, read a newspaper or magazine article on business or about a film, and do a short collaborative project with another student.
Am I too old for this program?
No matter what your age, the answer is absolutely not! While children have an advantage when it comes to imitation of sounds, adults of any age have a big advantage in learning a foreign language. With maturity comes more self-discipline and general linguistic knowledge, as well as a greater ability to process new information and make the most of every learning opportunity.
Socially speaking, the diversity of age at Acadia Center is unusually wide, with most students in their 30's, 40's, and 50's but some in their 20's and some over 60. Chances are good that there will be another student close to your age, and the friendly, family-style atmosphere at the school guarantees that you will feel comfortable and make friends with students from other age groups as well.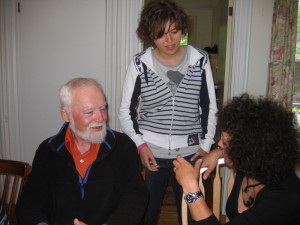 What are my options for accommodations?
The standard accommodation plan, which is included in the course package, is a private room in a family home near Acadia Center. Each room has a comfortable bed, a desk or table, chair, and lamp, a dresser and/or a closet.
Most students prefer the value and opportunity for English conversation practice in the standard accommodation plan. However, if you prefer to stay in a hotel or bed-and-breakfast or rental apartment, you are welcome to book your own hotel room and we will discount your course fee by $500 per week.
What do I do on the weekends?
On Saturday and Sunday, students usually spend at least half the time relaxing and studying English. The rest of the time students usually like to explore the area on foot or bicycle, taking advantage of all that Camden has to offer, including shopping, hiking next to the ocean or in the mountains, taking photographs, and depending on the season, sailing, swimming, or kayaking.
On weekends students often organize outings together, but if you prefer, excursions with a teacher or host can be arranged for an extra fee.
On weekends students can sample an amazing array of restaurants serving everything from pizza to lobster to steak to vegetarian food.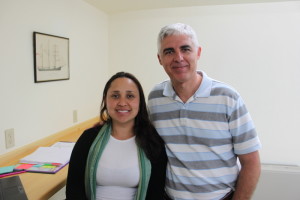 How many weeks will it take for me to become fluent in English?
Becoming fluent in a foreign language is not a quick or easy process. When your goal is to learn how to do very well something that is difficult and complex – such as playing the violin or painting a portrait – making predictions about how long it will take is not very helpful. More useful questions to ask yourself as an English learner are: What are the best methods for improving my English? Are my study materials accurate, varied, and interesting?
At Acadia Center we believe that an immersion course – constant English conversation practice in real-life situations combined with classes focused on the skills you need the most and a program of guided study – is by far the most efficient, most practical, and most entertaining way to move towards fluency in English. During your course we will make sure that your study techniques and materials are allowing you to make maximum progress, and on the last day of your course we give you detailed recommendations on how to continue to improve your English even in the context of your busy work and family life.
The exact length of your course will depend on your schedule and budget. Most Acadia Center students attend courses for 2, 3, or 4 weeks. However long your course is, you can be sure that you will be making the most rapid progress possible toward your English learning goals.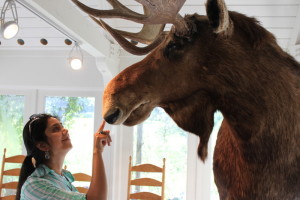 What's the easiest way to travel to Acadia Center?
Our area of Maine is easily accessible by airplane, bus, or car. See our Travel Information for detailed advice.
How do I enroll in (book) a course?
To enroll in a course, please complete our online Registration Form. When you register, we will send you a questionnaire asking you more about your needs and interests.