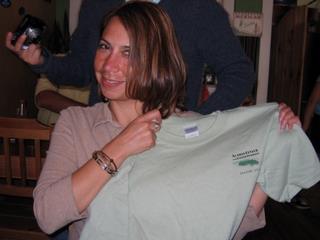 Announcing Acadia Center's first-ever alumni T-shirt contest!
Send us a photo (by e-mail) of yourself wearing your Acadia Center T-shirt and try to win one of our contest prizes.
Contest rules:
1. The T-shirt must have the authentic Acadia Center logo (not the cheap replicas you find in Times Square).
2. You have to be wearing the T-shirt.
3. The photo must have been taken outside of Maine – either where you live or somewhere you have visited in your travels.
Contest deadline:
March 15, 2010
Contest prizes:
The three winners will each receive his or her choice of either: a free 30-minute online English conversation lesson (value $30) or a $30 discount to an English immersion course at Acadia Center. Prizes must be redeemed by June 1, 2010.