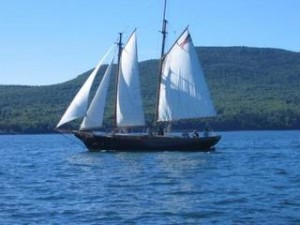 Summer mini-group courses at Acadia Center begin on July 6 and continue through August 28, with new courses beginning every week. Summer mini-group courses are a great option if you are looking for an affordable way to improve your English while also enjoying your summer vacation in a beautiful place.
The Maine coast offers lots of fun outdoor activities like hiking, biking, kayaking, and sailing.
On our excursions you can see a new exhibit of American or international art, sample a red, white, or rose at a vineyard and winery, and take an afternoon cruise on one of Camden's classic schooners.
Whether you are paddling on a lake or exploring a vineyard, you are always practicing your English — learning with the help of your teachers new vocabulary and idioms and trying out what you've learned in class in a relaxed, friendly, and supportive atmosphere.
We are still taking registrations for summer 2009!