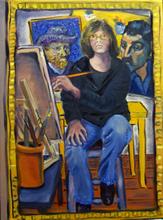 Artist Albie Davis has recently exhibited several portraits of Acadia Center students she and her partner John Chandler have hosted in their Thomaston, Maine, home.
Albie writes that in her art she tries many different forms and materials, but she is "always coming back to portraits,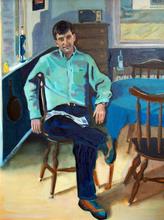 whether of humans, other animals, houses, cars, you name it. Making art is an excuse to explore the universe, to make sense of it all, and, if inclined, to reveal its nonsense! When I first read T. S. Eliot's observation, 'We shall not cease from exploration, and the end of all our exploring will be to arrive where we started and know the place for the first time,' I thought of how each cycle of observation reveals something new about the familiar."
Albie's painting of Fernando, an executive from Spain living in Brazil, was her first portrait of an Acadia Center student. Fernando has attended English immersion courses at Acadia Center three times over the last six years and has stayed with Albie and John each time.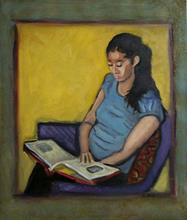 The subjects of the next Acadia Center portraits were Daeene, an IT professional from Brazil who posed while reading a book, and Martine, a banking executive from Québec who shares the canvas with Albie and John's dog Gromit.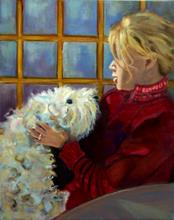 Acadia Center students love staying with Albie and John and many have kept in touch with them over the years. Martine recently drove from Québec to see the premiere of Lighthouse, a muscial set in 1930's Maine for which John wrote the libretto.
Albie shows her paintings regularly in midcoast Maine. We'll keep you informed of her exhibits!