Business communication – in e-mails, presentations, conference calls, meetings, and social media – has been the subject of a series of business English seminars for Acadia Center for English Immersion students, offered by business executive and university business instructor Larrain Slaymaker.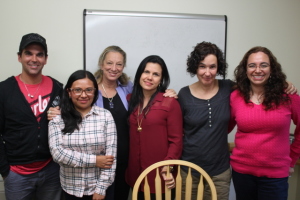 Larrain has extensive experience working for both small businesses and multi-national corporations and as an entrepreneur. She has taught business administration at the university level, and she has taught English in China.
"When we communicate in a professional environment, we need to be clear and concise," said Larrain in describing the focus of her seminars. "But how do we do this? How do we decide how to say something?  How do we know we are listening and reading effectively?  Cross cultural communications, business styles, vernacular, acronyms and a variety of business environments all add to the challenges of professional communications."
Seminar discussions have included strategies for improving writing ability, people skills, and the capacity to think critically and strategically in English.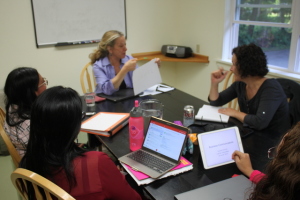 "Seminar participants include a health and safety management consultant from Quebec, an accountant from Mexico, and a supermarket executive from Colombia," said Acadia Center director Brian Boyd, "and they all have benefited from Larrain's tips on such subjects on the importance of tone and clarity in e-mails. They have also really enjoyed her interactive games and role-playing that allow for plenty of practice with the new vocabulary and idioms she is teaching."