Writing about your experiences in a full immersion English course is a great way to help yourself remember the vocabulary you've learned. It also encourages you to start thinking in English, rather than translating words that are new for you into your native language.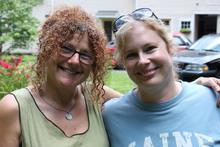 Last week, Daniela, human resources director for a software company in Bonn, Germany, and English immersion course student at Acadia Center for the second time, wrote an essay about her hike up Ragged Mountain, a favorite spot for local hikers here in Maine. Her guide was renowned artist and illustrator Anthony (Chip) Bacon Venti. After going over the essay carefully with her teacher, Daniela revised it and now you can read the result:
An Easter Sunday Hike
On Easter Sunday I went on a hike with Tomm's friend Chip whom I have met before. He knew that I had the day off from classes and offered to show me parts of his home state. I really appreciated his offer and he picked me up on Easter Sunday at 11 am. First we drove to Lincolnville and he showed me the beautiful view from Point Lookout which was formerly  a private property. Now there is a kind of upscale restaurant inside. You can even sit on the deck if the weather is warm and sunny enough and enjoy the scenery.
Chip told me the name of some islands and mountains we could see and pointed to an island where celebrities like Kirstie Alley and John Travolta own a vacation home. Further away we could identify some offshore wind turbines which must be huge if they can be seen from that distance.
We took some pictures and than we drove to a parking lot at Route 17 which is at the beginning of the Georges Highland Path. We took our knapsacks from the backseat of his car and started the hike.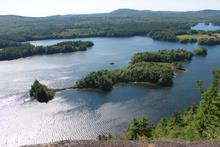 The trail was marked by blue markers on trees and rocks and sometimes it was difficult to identify exactly where the path might be. But Chip always found another marker and then we went on. The first part of the trail was not very steep but after about one hour it became a steep climb. Surprisingly we were overtaken by a couple who were running up the hill! We  kept up our pace and the last 20 minutes the path led over rocks until we reached the summit. On the top of the mountain stands a huge tower which apparently receives or sends data. We rested at the foot of the tower for a while and enjoyed our picnic. Chip did some sketches of the panorama and explained the landmarks to me. Then we went back downhill the same way we had gone up.
The whole hike took about 4 hours and was a really unique experience. Later he gave me a ride home to Acadia Center. I have to admit that I was really tired after that but I am glad I had the opportunity to see what I have seen.