Take advantage of Acadia Center's winter course discount and the lower off-season airfares to immerse yourself in English — effectively and affordably – in a beautiful New England town!
Enjoy a personalized learning program, lively lessons focused on your needs, delicious and healthy meals, comfortable accomodations, and total English immersion from morning to night.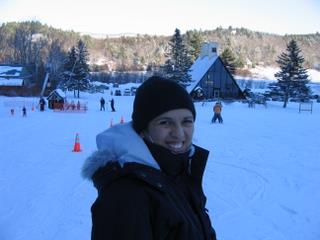 You might even like to take advantage of the season by skiing or snowboarding at the Camden Snow Bowl, just a 10-minute drive from Acadia Center. The Snow Bowl offers downhill skiing (with ocean views from the top of the mountain), snowboarding, cross-country skiing, snowshoeing, and tubing — and your lift ticket and equipment rental (and lessons too if you are a beginner) are free during Acadia Center excursions.
If winter sports aren't your thing, don't worry — you can stay warm in the cozy shops, cafes, and museums in the area, as well as the nearby fitness center, with its Olympic-sized swimming pool, indoor track, gym, and excercise room — all free for Acadia Center students.
Take 5% off the course fee (not including accommodations) for winter courses. To receive the discount, register and pay the course fee deposit before January 1, 2010, for a course beginning before April 1, 2010. For new registrations only and not for customized courses. Write discount code W5 in the questions/comments line when registering.