Is improving your English essential to doing your job well or finding a new job? Have you been too busy with work and family life to study English?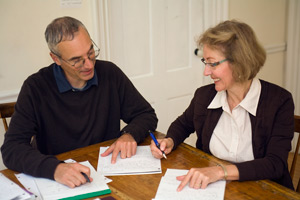 There's no better way to improve your English quickly than taking an English immersion course, and with new discounts for fall and winter courses at Acadia Center, there's no better time to make the commitment to improving your English.
For combination (private/mini-group) courses and for private courses, we are now offering a discount of 10% off the course fee (not including accommodations). The discount is for new registrations only and does not apply to customized courses. To be eligible for the discount, you must register and pay the course fee deposit before November 21, 2009, and begin your course before February 1, 2010.
Couples and friends taking a course together are also eligible for an additional 5% discount off the course fee (not including accommodations).
To receive the discounted rate when you register, enter the appropriate discount code in the questions/comments section. For the 10% discount, enter code: FW10. For the couples/friends discount, enter code: TT5.
Take advantage of Acadia Center's fall/winter course discount and the lower off-season airfares to immerse yourself in English — effectively and affordably — in a beautiful New England town!