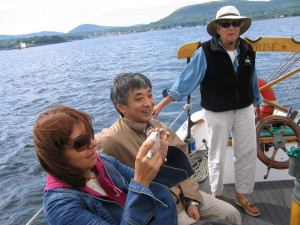 The lilacs are in bloom, the schooners are under sail, and professionals from around the world are coming to Maine for full immersion summer English courses.
Sailing, kayaking, hiking, biking, and swimming, as well as more sedentary activities such as relaxing at an outdoor café table, are all awaiting Acadia Center's English immersion course students in Camden, Maine, this summer.
Register now for a learning vacation with like-minded professionals who want to improve their everyday English in a total immersion environment!