The best way to learn new words in English is to read something challenging. Read articles in an online magazine like Slate, or choose a book that interests you – probably non-fiction unless your English level is very advanced.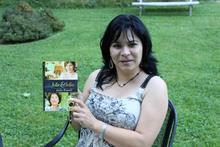 Avoid getting frustrated by the difficulty of the reading by following these steps:
1) First try to understand the general meaning of each paragraph and each sentence before trying to decipher the meanings of individual words.
2) Be selective about which words to examine more closely. Skip words that seem obscure, archaic, or unusually technical. (Of course, you have to go partly on intuition with this.)
3) Look up unfamiliar words in a dictionary. Read the definitions (usually there is more than one) and try to identify which meaning is correct in this context. Read the examples of how the word is used in a sentence. If you decide that it's a particularly interesting or useful word (relying partly on intuition again), copy down not only the word but also the context – the phrase or the sentence that shows how the word is used with other words.
4) Don't be surprised if it takes you half an hour to read only a few pages. That's OK. It's not a race. Getting more familiar with new words requires reading at a pace leisurely enough to allow for comfortable, relaxed, careful consideration of each new word and its environment.
Ivone, a current student at Acadia Center, is a talented chef, so not suprisingly she recommends Julie Powell's book Julie & Julia, which inspired the popular movie with Meryl Streep as the endearingly eccentric cookbook writer Julia Child.
Do you have a book in English to recommend? Tell us the title and author by leaving a comment on this post. And tell us briefly why you like the book!